SCOTT FOAM® INSULATION TAPE
SCOTT FOAM® Insulation Tape
Scott Foam Insulation Tape is a closed cell elastomeric foam with a reinforced PSA adhesive and release liner. It is used to control condensation and heat gain/loss on pipes and fittings that are difficult to insulate with standard pipe or sheet insulation, or for sealing seams/joints in elastomeric pipe and sheet insulation. It can also be used as a weatherstrip to seal joints in sheet metal panels or in a wide array of applications to prevent squeeks and rattles or prevent air flow.
Scott Foam Insulation Tape is tested under ASTM E84 and meets a flame/smoke rating of 25/50. It is also available with a UL 723 certification (UL file number available on request).
Scott Foam Insulation Tape does not promote microbial growth and is fiber/irritation free. The closed cell construction makes it an excellent vapor retarder and able to resist water absorption.
Scott has more than 70 years experience developing custom insulation solutions. Scott Foam Insulation Tape meets critical adhesion requirements for a diverse mix of applications and industries. From concept to completion, we are dedicated to serving our customers and creating the best quality products that will suit your needs.
Features:
Easy "peel and stick" Pressure Sensitive Adhesive (PSA)

Flexible

High bond strength

Closed Cell

1/8" x 2" x 60' (other sizes available)
Benefits:
Moisture and Vapor Resistant

Microbial Resistant

Irritation Free

UV Resistant

Cleanable

Energy Efficient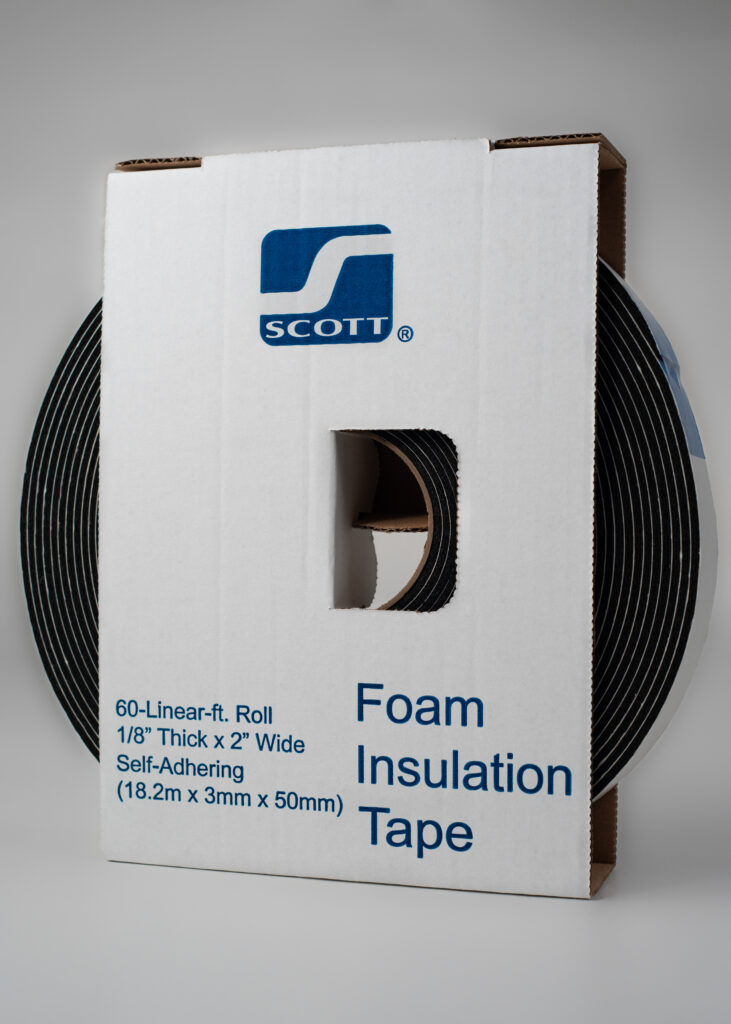 For samples or technical information contact a sales representative